Auto-Owners Reflects on Longevity, Success in an Ever-Changing Market
By Ann Kammerer
/

03.16.20

/

3 min read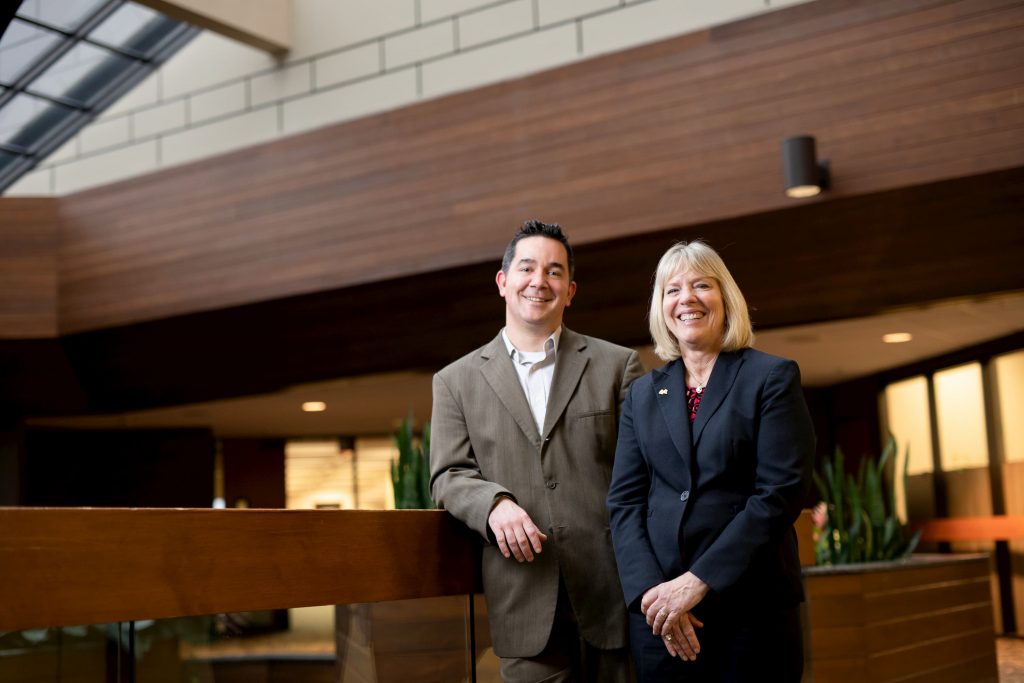 Relationships. Consistency. Hard Work. And Loyalty
Those are just four of the 10 core values held by Auto-Owners Insurance—the largest property and casualty insurance company headquartered in Michigan, and a long-standing contributor to the prosperity and well-being of its customers, employees and communities it serves.
Located in Delta Township, Auto-Owners offers auto, home, business and life insurance to policy holders exclusively through independent agents. It's a model that has worked since 1916 when founder Vern V. Moulton launched the company from one room of the Commercial Block Building in Mount Pleasant. And it's one that propels the company forward to answer the growing need for insurance in a challenging world. "Insurance is a complex subject," said Lisa Ayotte, vice president of real estate and operational services. "It's one we feel strongly is best supported and understood with the help of an agent."
The commitment and confidence in the independent agent system is mirrored in each relationship the company holds—including that with Martin Commercial Properties. Since the 1970s, Auto-Owners has entrusted Martin to lease, acquire land, secure office space, and manage properties that suit the needs of the company—including the nine buildings that currently comprise its mid-Michigan headquarters. "We're honored by the confidence Auto-Owners has placed in us to get the job done for them—anytime and anywhere," said Van Martin, president and CEO of Martin. "We're proud to be their hometown partner and to support their service to their customers and communities."
Focus on people
Auto-Owners' success begins with their people-centric approach that extends to all aspects of their business—including real estate. While some companies consolidate their operations in regions, Auto-Owners locates its claims and underwriting offices in areas that are close to both their agents and their policy holders.
"Our philosophy of being close to our customers is key to our success," Ayotte said. "We firmly believe that customers still want to be able to talk with someone when they have questions or concerns. That refreshingly human approach is still very important in business."
While Auto-Owners has steadily expanded, it has never lost sight of its humble origins. Today, the company writes insurance in 26 states and employs more than 5,400 associates. In recent years, Auto-Owners aligned with three insurance companies to expand its market reach: Atlantic Casualty Insurance Company, Concord General Mutual, and Capital Insurance Group.
"We're thrilled that we continue to grow and are able to help insureds in their time of need for 103 years and counting," said Ayotte. Technology also drives the company's growth and its ability to efficiently serve policy holders. Data analytics help ensure products and services are fairly priced and positioned. Drones are increasingly used to gather data and review claims more quickly. And processes once based in paper forms and filings have been transformed into seamless electronic systems that give customers around-the-clock access to their policies. While technological advances makes it sound like people have been taken out of the picture, they haven't.
"We have the ability to use technology and data to assist us in serving customers unlike any other time in history," said Ayotte. "We understand people will always want to do business with a company that cares about them. Our goal is to be there to help people in their time of need and to advise on the next step."
Top of the list
Auto-Owners prides itself on service, and understands that one-on-one, personal interaction starts with staff and company culture. For the last four years, Auto-Owners has been a certified Great Place to Work by the global benchmark ranking company.
"We hire talented associates and provide them the tools to succeed and grow within the company," said Daniel Keefe, director of real estate development and acquisition. "The great thing about working here is that you can enjoy a career in so many different areas like underwriting, claims, IT, actuarial, human resources, accounting, marketing and real estate. You also have opportunities to transfer to offices in all our operating states."
Keefe, in fact, is among the long-term employees who have worked in different areas. Eighteen years ago, he started in real estate. After a stint in actuarial, he returned to the real estate division with expanded knowledge and skills. Ayotte traveled a similar arc. She started in accounting 31 years ago. Today, she's in leadership in corporate real estate.
"We encourage staff to try out or transfer to different areas," said Ayotte. "It makes us stronger as a company since you truly learn what our mission is. We like to tell people you can have 10 different careers here." Over the past several years, Auto-Owners has grown by more than 250 positions annually. Some of that growth is attributed to the new affiliations. Others by demand and innovation.
In Lansing, the construction of the new South Campus building stands as a symbol of Auto-Owners' success. The 231,000-square foot building, slated to open in 2021, will house claims and claims IT associates, freeing up space on the North Campus to expand the underwriting, legal, human resources, marketing, actuarial and IT divisions.
"Our goal is to be your insurer of choice by looking for ways to increase the level of service we bring to our agents and insureds," said Ayotte. "Our growth will allow us to continue specializing in key areas that will reap benefits for years to come."
Giving back
A solid contributor to the economic development, Auto-Owners never fails to give back to Greater Lansing and beyond. Team members regularly volunteer time, talent and money to causes that include Habitat for Humanity, Community Table, Heart Walk and Martin Truex Jr. Foundation. Other organizations include Junior Achievement, Ele's Place and the United Way.
The community-minded company has also upped its focus on environmental topics. Auto-Owners offers a green discounts to customers who opt for paperless service. The company also supports green building initiatives such as solar panels. The new South Campus will feature a conservation easement for wetlands, while robust recycling is encouraged company-wide, such as a recently added program for Styrofoam dinnerware recycling in their dining center. "We try to do our part," said Keefe. "And to be respectful of the environment."
By putting philosophies and values into action, Auto-Owners plays a vital role in Mid-Michigan's business community and culture. As a long-time partner, Martin Commercial pledges to be there to meet Auto-Owners' real estate needs—including researching and brokering office space, providing lease administration and property management services, and consulting and site selection on expansions.
"Martin has contacts in markets all over the country," Ayotte said. "With their years of experience, they are skillfully able to research the area, assist with the economic incentives, and negotiate a potential purchase on our behalf. Our Real Estate Division would need to be much larger if we weren't able to rely on Martin to assist us in all the ways they do today."