Market Research & News
By Natalie Jones
/

02.22.21

/

3 min read
You need information to guide your business decisions. Sometimes, you need it quickly.
Martin Commercial Properties is dedicated to providing the nuanced data you need to make solid real estate business decisions.
Since our founding in 1962, we've been immersed in the communities we serve and amassing the knowledge to become the analysts, forecasters and advisers you know and trust. Every step we take is informed by the data we've gathered and analyzed in our specialty areas of industrial, office and retail. For nearly 60 years, we've been sharing that information with you in the form of our Market Insights that we regularly produce and publish.
Twice a year, we summarize the extensive data we have gathered and produce our Martin Market Insights. We've generated these bi-annual reports every year since 1992, and take pride in creating reports that are both comprehensive and easy-to-digest. Our Martin Market Insights detail specific statistics and major transactions in identified geographic areas, particularly Greater Lansing and Greater Grand Rapids. We also expertly outline industry trends and market forecasts.
In addition to our clients, bankers, appraisers, developers, city offices and economic development teams frequently rely on the insights gleaned from our market insights to guide decision-making in their communities. In fact, anyone interested in the commercial real estate market can receive or access our public-facing reports.
At Martin, we consider ourselves a solid source of local market knowledge.
Interested in checking out a Martin Market Insights report? You can see the most recent by visiting martincommercial.com/market-insights. For starters, here's what you can expect to see in the report.
What's in a Martin Market Insight Report?
Markets at a Glance
A snapshot of the changes in vacancy rates, completions, and absorption for the market as a whole, as well as by submarkets.
Industry News
A summary of recent developments, legislative activity, and trends affecting commercial real estate.
Market Composition
A description of the current type, size and concentration of available space.
Vacancy Trends
A breakdown of rentable space, as well as total vacant space, vacancy rate, net absorption, completions, and asking lease rates for regional submarkets.
Unemployment Statistics
A look at the most recent unemployment rate for the metro area, with comparisons to the previous year.
Detailed Discussions
A narrated analysis of the data related to vacancies, absorption, and asking rental rates in identified areas. This section presents details on specific properties leased, offers, forecasts and trends, and puts information in context to aid client decision-making.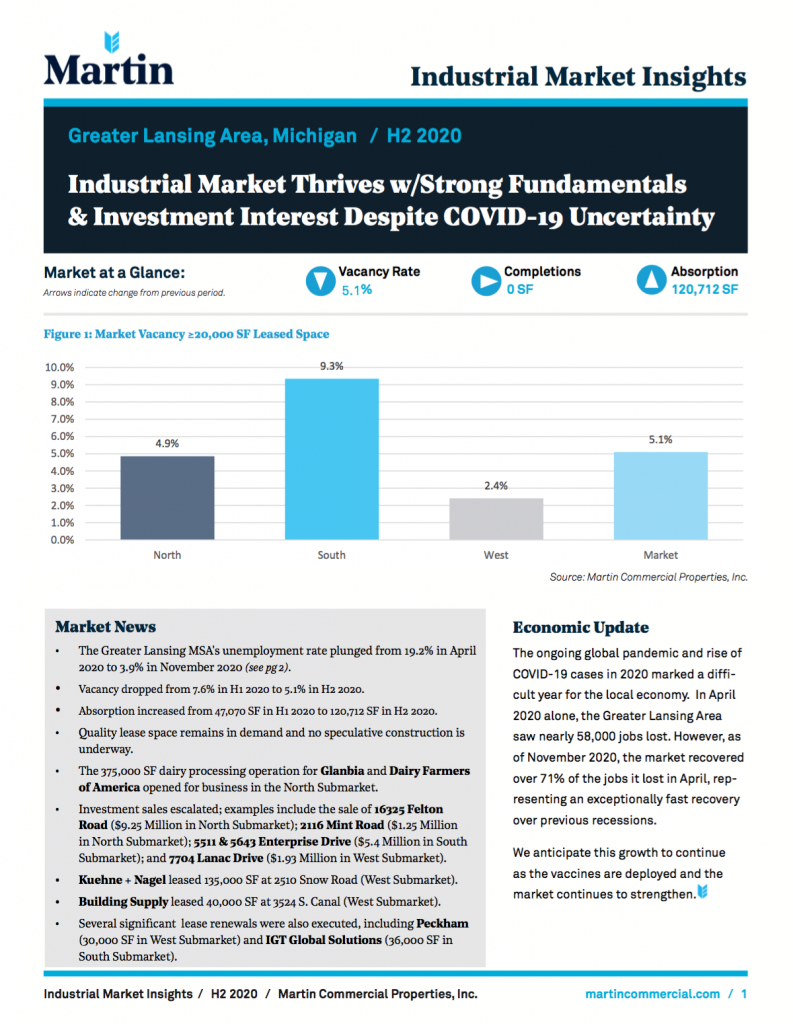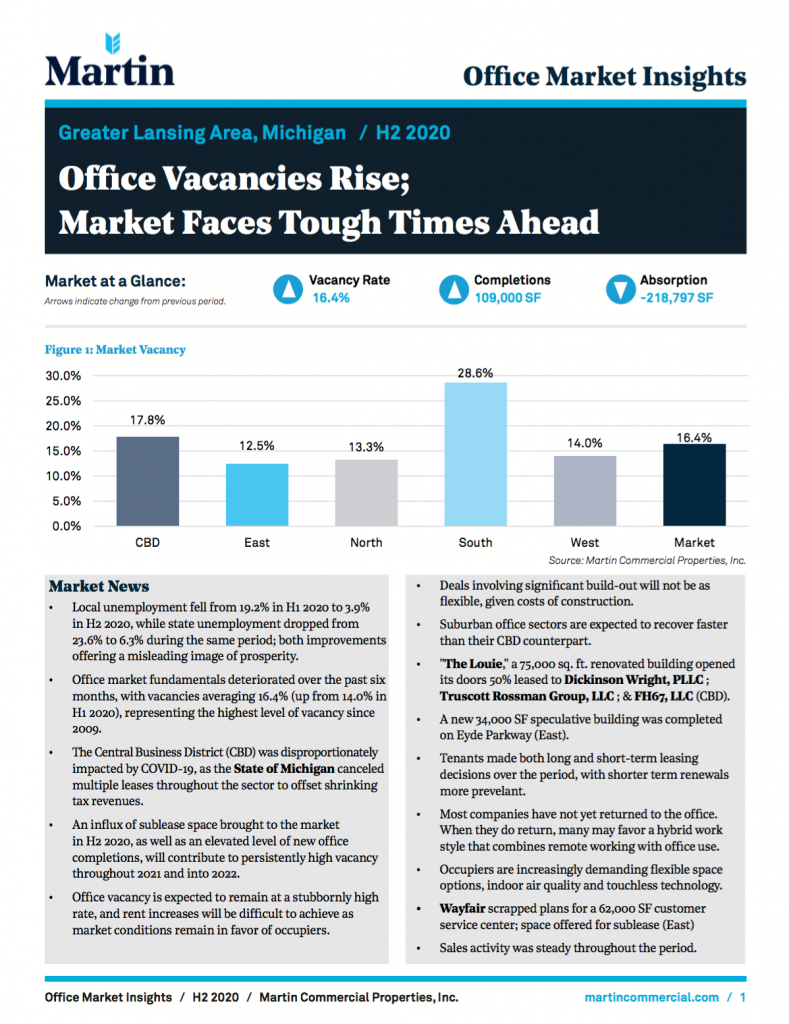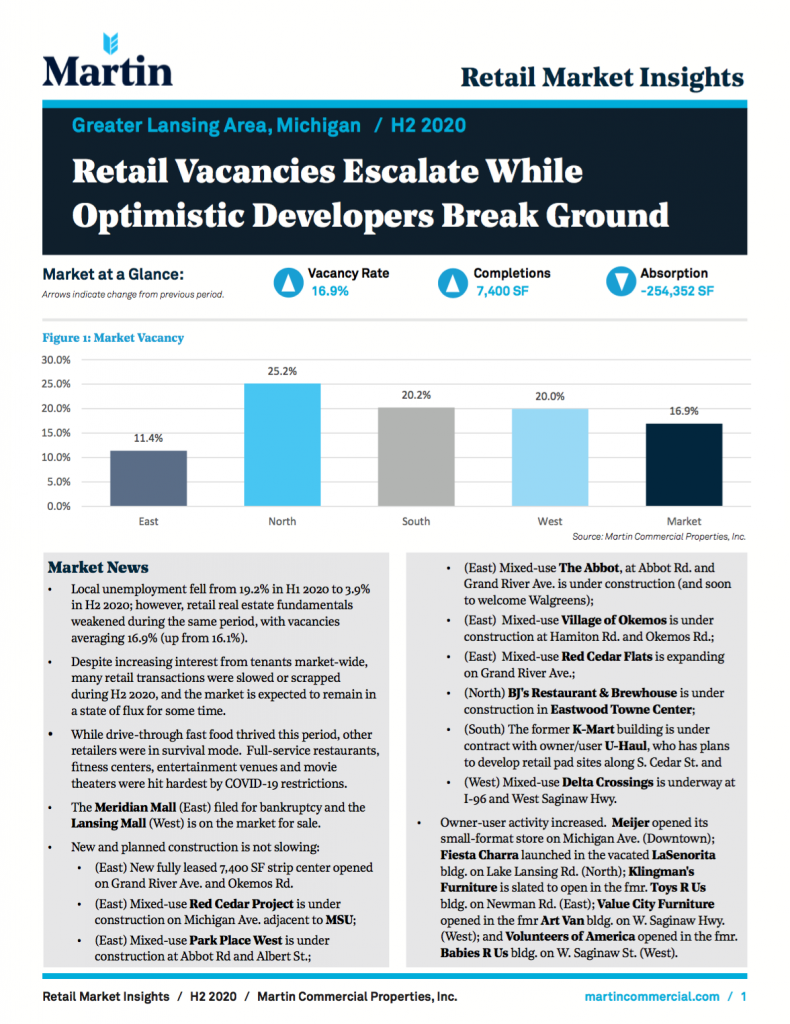 Would you like to receive Martin's Market Insights? Click HERE to access the latest reports.