H1 2021 Market Insights: Six Big Takeaways
By Natalie Jones
/

08.09.21

/

3 min read
Since 1988, Martin has conducted its own research and published reports that capture the market activity in industrial, retail, and office sectors in the Greater Lansing area. Our most recent reports for H1 2021 went live in late July on our website HERE, but we also have important takeaways from our findings here. Learn more about where the local market stands below!
Industrial
1. Vacancy rate separates industrial from office and retail sectors
The vacancy rate dropped for industrial, moving in the opposite direction compared to retail and office. Here's what the rate looks like:
Industrial: 4.3% in H2 2020 to 3.5% in H1 2021
Retail: 17.0% in H2 2020 to 19.4% in H1 2021
Office: 17.2% in H2 2020 to 20.0% in H1 2021
The increase in demand for industrial space to keep up with the growth of e-commerce is a significant reason why this percentage fell. In turn, the lower number of industrial vacancies is expected to spark build-to-suit activity and retail-to-industrial conversions in the future.
2. The south and west industrial submarkets have strengths in composition, vacancies, and absorption compared to the east and north submarkets
Not only is the west submarket the largest of the four, but it has the lowest average vacancy at 1.6%. The west submarket includes a 3.6-million General Motors Delta Assembly Plant, over 3 million SF of warehouse/distribution space for Meijer, and roughly 3 million SF of manufacturing/distribution space for Spartan Motors.
The south submarket is the second largest and the leader in absorption which is the net change in physically occupied space from one period to the next. In H1 2021, the south submarket absorbed 88,590 SF. This equates to 2.8% of the sector.
Retail
3. New mixed-use development projects are expected to generate substantial activity in the east and west submarkets
The east submarket already has several successful mixed-use projects near Michigan State University including 13,000 SF of ground-floor retail with apartments, parking, and the new Graduate Hotel at Abbot and Albert. This submarket will welcome three new developments in the future:
Red Cedar mixed-use project – Michigan Ave. across from MSU
The Village of Okemos – Hamilton and Okemos Roads
14-acre former Sears site – Frandor
The west submarket features the Delta Crossings mixed-use project at West Saginaw and I-96 which is close to a grand opening. Altogether, these projects are bound to attract strong retailers to the area and generate economic activity in multiple ways.
4. An influx in eateries will come to the Greater Lansing area despite retail struggles
Restaurant safety concerns over the past 18 months, a rising vacancy rate, and a negative absorption at -89,455 SF indicate challenges for retail. However, eateries have overcome obstacles and are establishing new locations throughout Greater Lansing. Gravity Smokehouse will open on the site of the former Champions Bar & Grill at 2440 Cedar through a deal facilitated by Thomas Jamieson, Senior Associate, Office Advisor. Carson Patten, Sales Associate, helped bring several restaurants to the area including the following:
Everything is Cheesecake opening at Jolly-Cedar Plaza
Hungry Howie's and Koi Tea open at 2160 West Grand River
Conrad's opening on Jolly Road near I-96
Office
5. Despite hard blows to the Central Business District, lease renewals and sales activity show a gradual return to normal landscape
The sector most affected since COVID-19's impact on the market is the CBD. The vacancy rate escalated to 26.7%, mainly due to the cancellation of several State of Michigan leases combined with sublease space on the market.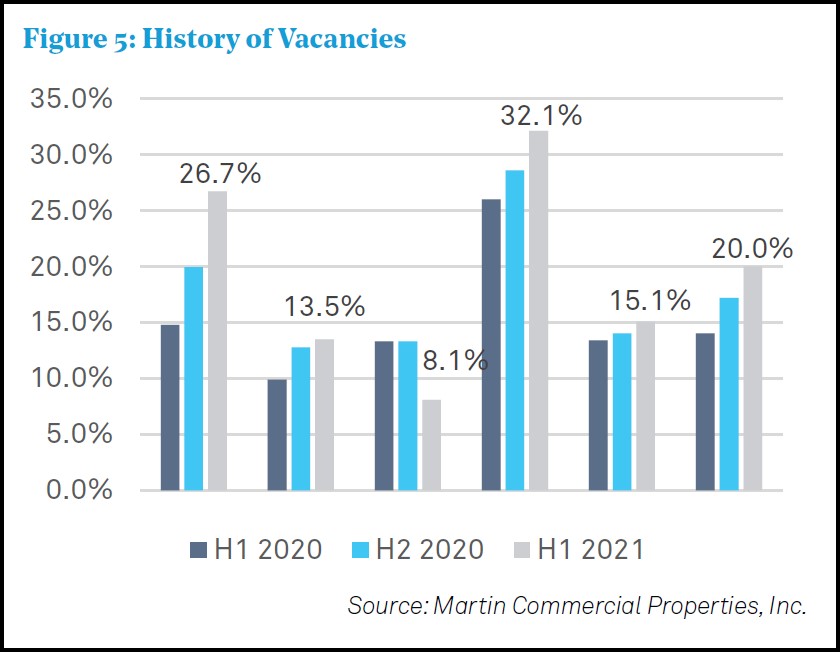 Despite this, new leases and lease renewals have occurred in the CBD as well as other submarkets. Examples include a major national association leasing 7,400 SF on West Allegan St. (CBD) and Data Recognition Corporation leasing 8,900 SF on West Rd. (East).
Sales activity is another positive to come out of our H1 2021 report. Banks had money to lend at low interest rates, allowing for transactions such as 916 Mall Dr. (10,000 SF, $2.7 M) and 2400 Lake Lansing Rd. (11,730 SF, $1.47M) to occur.
6. Local construction plans are on track even with increasing costs
Higher labor costs have raised construction costs for build-outs and new builds. Despite this, MSUFCU will begin construction of a new 80,000-SF facility in downtown East Lansing, and TechSmith has started building its 62,000-SF world headquarters on South Harrison Rd. The progress made at these sites follows the near completion of McLaren's new health care campus which will open in April 2022.