Starbucks Community Store Coming to Former Clara's Lansing Station
By Natalie Jones
/

01.19.22

/

3 min read
Banner image courtesy of Nick King/Lansing State Journal
The former Clara's Lansing Station, a 120-year-old local landmark, is under renovation to welcome a new tenant, Starbucks Community Store!
Originally a train station for several decades, Clara's Lansing Station was a family-owned restaurant for 38 years until it closed in 2016. Despite necessary interior and exterior upgrades, Starbucks Community Store wants the history to be prevalent in its space. The Gillespie Group is leading renovations at the building.
The Lansing Regional Chamber of Commerce (LRCC) recently published an article about the activity at this building. Click HERE to read our source.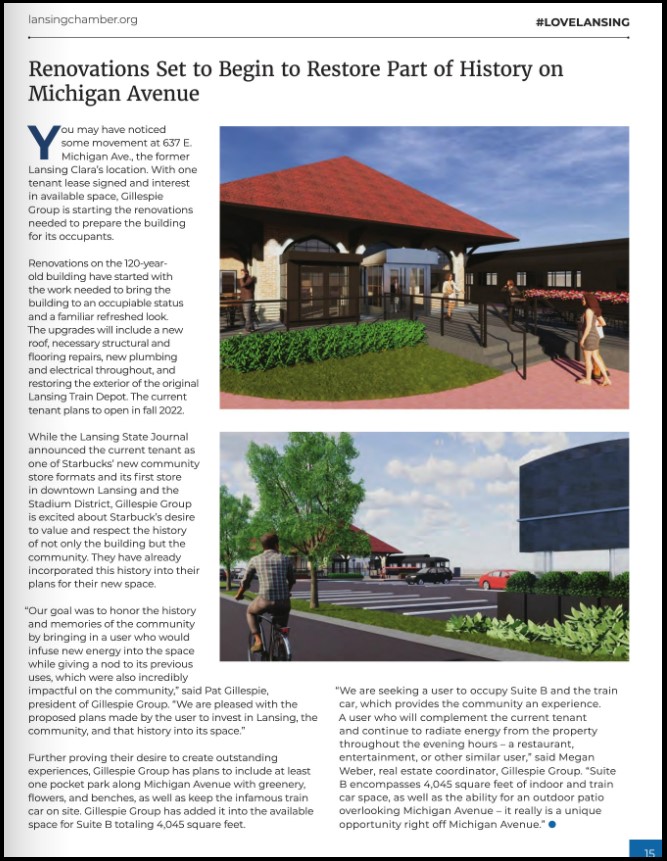 According to the Lansing State Journal, Starbucks Community Stores are found in low-income areas and are designed to support community programs by working with nonprofit organizations. This new location in Lansing joins a group of only 21 Starbucks Community Stores in the country. We're excited to hear about the opportunities that Starbucks Community Group creates for the community and see who will occupy the remaining suite and train car!