Reducing Density vs. Office Space: How Companies Have Responded to Hybrid Work Preferences
By Natalie Jones
/

02.11.22

/

3 min read
Banner image courtesy of Ricardo Esquivel from Pexels
Although hybrid work has been more prevalent over the past few years, the demand for office space hasn't plummeted. Instead, the density in offices has been reduced. Experts found that office space has only shrunk by 1-2% across surveyed firms as seen in the chart below.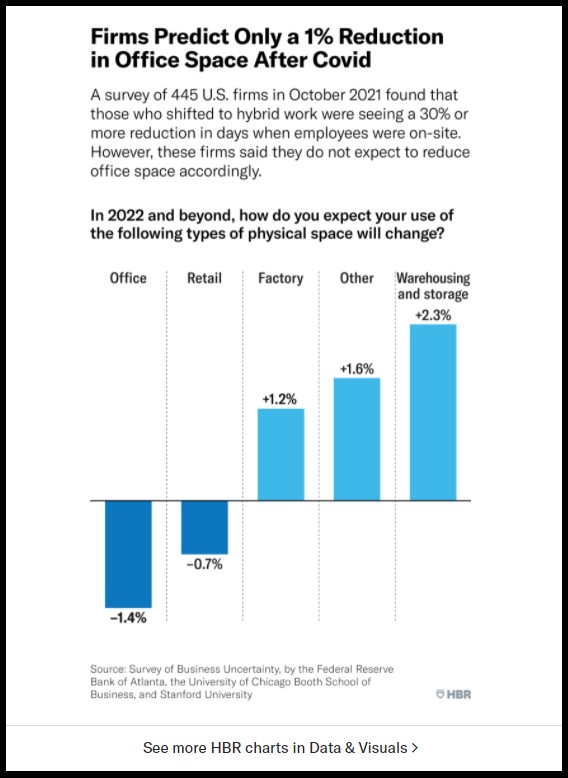 According to experts, there are three reasons why companies have focused on reducing density rather than space:
Comfortability
Companies have opted for creating a comfortable environment for employees by requiring fewer days at the office. This way, crowds at desks and common areas can be avoided.
At-home work
Given the job market and difficulties with attracting and keeping talent on teams, companies have fulfilled employees' wish to work remotely on Mondays and Fridays. This limits opportunities for companies to cut back on office space.
Office design
To keep talented employees, companies should look to incorporate features that elevate the workspace such as lounge-style seating, meeting rooms suitable for remote and in-person participation, and sound-proof cubicles. For instance, Accenture now has "reflection zones" that are technology-free as well as yoga and wellness areas.

To read our source, click HERE.