Meridian Township in 2022: Four Projects to Keep an Eye On
By Natalie Jones
/

03.28.22

/

3 min read
Banner image courtesy of Bryce Airgood/Lansing State Journal
Developments in Meridian Township, a charter township bordering East Lansing, are either pending approval or close to the start of construction. Take a look below to see what is planned for the area:
Haslett Village Square Concept
Developers submitted a proposal for a 19.5-acre site at 1655 Haslett Road that would start this summer if approved. Haslett Village Square was sold by Martin's President and CEO Van W. Martin, SIOR, CCIM, CRE, and Director of Project Management, Martin Property Development, Jason Brunette. Plans for the property include the following:
Variety of stacked flats and townhomes with garages
Fitness center
Outdoor patios with fire pits
Dog park
Pickleball courts
Electric vehicle charging stations
Food truck vendor hub
Commercial space
Following a proposed demolition date this summer to clear out existing retail space, construction would begin this fall and continue over the course of six phases, ending in winter of 2028. The estimated cost for this project is over $60 million.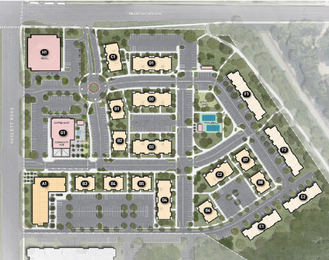 Pine Village
According to developers, the Haslett Village Square project would complement Pine Village, a development comprised of 133 senior housing units, commercial retail space on the first floor, and improvements to the Haslett Village Square area.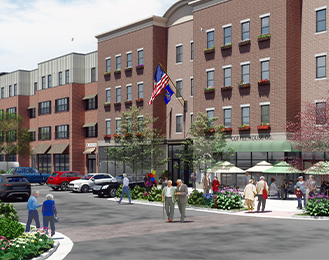 Trader Joe's
After the demolition of the former Golden Wok restaurant and strip mall at 4984 Northwind Drive, construction for the Trader Joe's project will begin. The 13,500 SF space is expected to open in early 2023. The development also includes 2.2 acres of property on Grand River Avenue and Northwind Drive. Trader Joe's, a national retail neighborhood grocery store, has eight locations across Michigan. The upcoming site in Meridian Township will be the first in the Mid-Michigan area.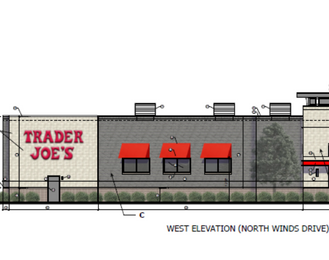 Village of Okemos
The proposed project would revive two vacant Village blocks and strengthen Downtown Okemos with roughly 257,534 SF of residential and commercial business spaces in mixed-use buildings. This development would result in 100 new jobs and up to $85 million in new capital investment to the Village.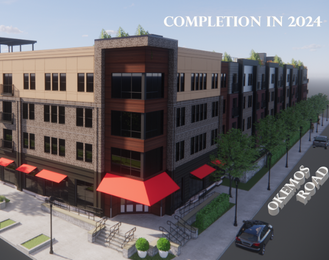 We're excited to see plans for new additions to Meridian Township! To read our sources, click below:
301-Unit Housing Development Proposed at Haslett Village Square Site in Meridian Township
Development Projects – Meridian Township
Demolition Starts for Long-Awaited Trader Joe's Project in Meridian Township