Counselors of Real Estate® Identify Issues Affecting the Industry in Wake of COVID-19
By Ann Kammerer
/

07.21.21

/

3 min read
Remote work and mobility, technology acceleration top the list for 2021-2022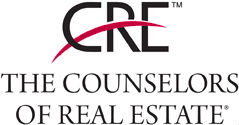 While 2020 tested limits, 2021 and the coming year will test the resolve of businesses to achieve normalcy, regardless of the form it takes. Industries, communities and individuals alike will continue to feel the parallel forces of the pandemic, social and cultural shifts, and political divides, all while strategizing for the "familiar" challenges posed by the economy, technology and infrastructure.
Each year, The Counselors of Real Estate® reports on the Top Ten Issues Affecting Real Estate. For 2021-22, remote work and mobility topped the list, followed by technology acceleration and innovation. Predictions are that COVID-19 will continue to overlay the industry, causing professionals to emerge with cautious optimism. New approaches adopted during the pandemic will become standard, resulting in shifting business practices.
President and CEO Van W. Martin of Martin Commercial Properties is a member of the highly respected organization that annually identifies current and emerging issues expected to impact real estate. He remarked that while the landscape is volatile, professionals who can tolerate uncertainty and adapt to social and cultural changes will succeed.
"The next few years look to be among the most challenging of our real estate careers," he said. "The roller coaster ride isn't over yet, but if we hang on tight, we'll get beyond the uncertainties and back on a more predictable track."
Martin is one of just 1,100 designated Counselors of Real Estate. Members of the professional organization reside in 20 countries and U.S. territories, with chapters across the U.S., Canada and Europe. Real estate practitioners holding the prestigious credential are recognized for their expertise, experience, and ethics in providing advice that influences real estate decisions.
Founded in 1953, The Counselors of Real Estate applies rigorous, independent, and informed analysis on real estate decisions faced by a full range of market participants. The international organization consists of high-profile property professionals, including principals of prominent real estate, financial, legal, and business advisory firms, and recognized leaders of government and academia. Membership is selective and by invitation, with commercial real estate professionals with 10 or more years of experience encouraged to apply.
The good news is, real estate professionals can formulate strategies for navigating the coming year by developing a strong grasp of the trends and issues. Following are the Top 10 issues identified by CRE membership, as well as a summary of key points.
Rolling with the Top 10: The basics
Remote Work and Mobility. COVID-19 disrupted human behavior and significantly affected how and where space is used. With the escalating return to "business as normal," commercial properties will need to reposition for changes in demand. Remote working, the acceleration of internet retail, and the demand for larger and more natural spaces will remain alongside other pandemic-era behaviors. All real estate sectors should be poised to accommodate demand-driven changes for use and location.
Technology. During the pandemic, the news about tech is not about new tech, but about accepting and maximizing what exists. The accelerated upgrade of connectivity, security, and hosting processes means that any place can now be a potential worksite. For real estate, that creates new pools of vacancy and pools of availability enabled by technology.
ESG. Environmental, social and governance issues are at a tipping point, and are perceived by the majority of CEOs as creating long-term value. Concerns about climate change, workforce development, initiatives for diversity equity and inclusion, and the recognition of health and wellness are setting new expectations for the industry. Professionals in real estate and finance will need to assess and deploy strategies for mitigating risk, while creating value for investors, shareholders, occupants and capital markets.
Logistics. Real estate assets are a critical segment in the supply-chain funnel, and at the epicenter of what makes the economy function. Logistics during and after COVID-19 will disrupt commercial real estate models, including those in capital allocation, physical stores versus eCommerce warehouses, and pricing.
Infrastructure. The pandemic, climate change and heightened interest in social and economic equity have pushed infrastructure imperatives beyond traditional maintenance and improvement needs. Enhanced broadband access, improved information and delivery systems, renewables and electric energy, and electromobility are among the emerging demands.
Housing Supply and Affordability. Decades of underinvestment and underbuilding have led to a housing shortage in America, necessitating a major national commitment to build more housing of all types. Three issues continue to bubble up : (1) The tremendous need for affordable housing; (2) A "not in my back yard" mentality; and (3) The ongoing supply deficit of market-rate housing.
Political Polarization. Political friction hinders productivity and the nation's economic strength. Real estate felt the pinch pre-COVID-19, particularly as the broken immigration system hamstrung housing production, and affected immigrant workers across the real estate sector. Resources are squandered as the industry addresses problems arising from partisan divides, calling for return to politics as an art of compromise.
Economic Structural Change. Macro-level uncertainty is the governing headwind in terms of addressing structural problems in the U.S. economy. Economic models are limited as real estate professionals attempt to predict pandemic-related behaviors that will persist or be set-aside. The ability to assess potential for sustainable growth may be hindered as professionals focus on what can be controlled.
Adaptive Reuse. Adaptive reuse is pivoting to address the challenge of what to do with defunct suburban malls and empty big-box retailers that surround desirable or affordable neighborhoods. The evolving practice holds promise for reconnecting communities divided by interstate highways, preventing blight, restoring greenspace, and promoting ESG, as well as diversity, equity and inclusion policies.
Bifurcation of Capital Markets. The 15-months of market-changing events related to COVID-19 are dramatically different from previous market corrections. Debt capital markets have seen significant volatility, while risk premiums spreads have been on a roller coaster ride. The market continues to be flush with debt capital liquidity. Buyers and sellers are holding their ground as owners look to the vaccine and timing on a return to normal.
Would you like to see the complete list and discussion? Or learn more about the role and initiatives of the Counselors of Real Estate? Visit https://www.cre.org/
To read the press release, click HERE.